The Top Travel Destinations In 2019 So Far, According To 5 Vacation Booking Sites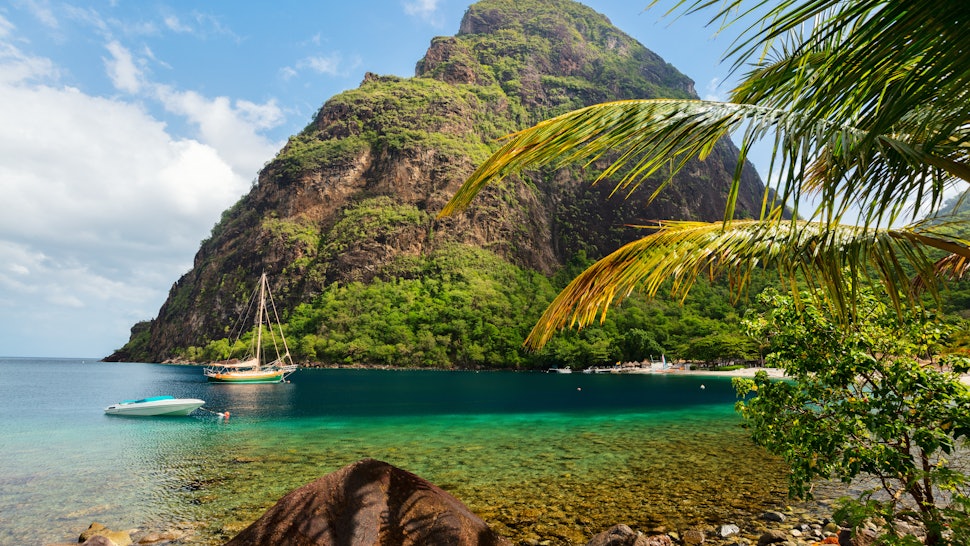 With summer in full swing, you may still have vacation time to use, but you're not sure where to go. Or you may be back from your trip and ready to plan your next one. While friends and enticing Instagram posts may persuade you to go to places like the Bahamas or Paris, what do travel experts say? Some popular travel booking sites did some digging and discovered the next trendy vacation spots. To do so, they compared data from July 2018 to July 2019 to see what place(s) experienced the highest increase in people traveling there.
"As time has passed and new technologies have emerged, travel has become more and more accessible to the masses, providing consumers with the ability to plan their experiences like never before," a Skyscanner spokesperson tells Bustle. "Travel sites and apps are among these innovations, whether a traveler is seeking a last-minute getaway or planning a trip in advance." With many of these apps, travelers can look up destinations on their wish lists — perhaps inspired by others' social media posts — or look up places that meet their budget.
Here, some renowned travel booking sites reveal the next hot travel spots, so get your bags (and perhaps your passport) ready.
1. Orbitz: Toronto, Canada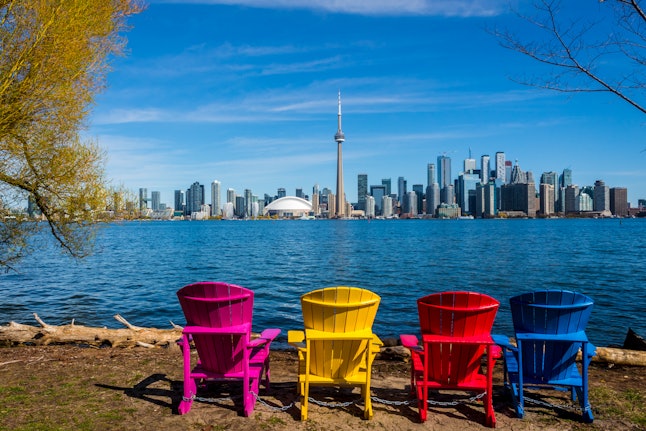 Orbitz found that Toronto, Canada had the biggest jump in people traveling there when comparing numbers from July 2018 to July 2019. "Toronto saw the highest increase of any destination — international or domestic — on Orbitz," Mel Dohmen, Orbitz's travel expert, tells Bustle. "In general, Canada is the place with the most hot spots on our travelers' lists this July — it's a prime time to visit the music hub of Toronto, as there are plenty of music, food, and cultural festivals going on throughout the month."
As far as domestic travel within the U.S., they found that Jacksonville, Florida would win for the highest increase in visitors. "Similarly, Jacksonville hosts some of the nation's top concerts and music festivals while offering a mix of attractions for everyone who visits," Dohmen says. "Despite varying in region, both of these locations boast plenty of fun outdoor activities, too."
As for when you should book your trip, she suggests booking at least three weeks in advance for the best deals. "Or, search for low-cost fares like flights for under $199on Orbitz," she adds. "And if you are looking for the best-deals for a last-minute getaway, try booking a vacation package." She says that, this year, they've seen the biggest savings on packages when travelers book just one week out.
2. Expedia: Winnipeg, Canada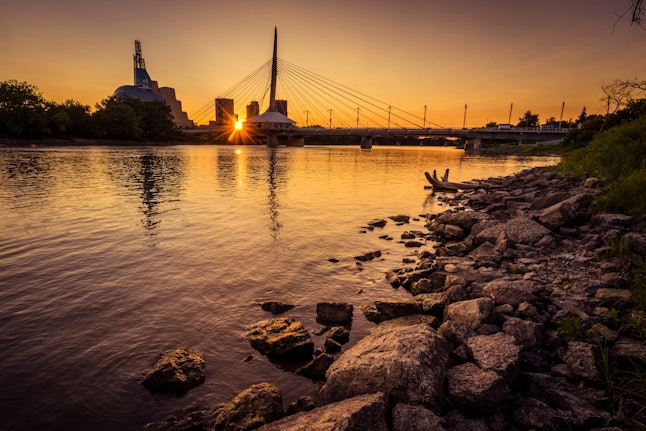 Canada also came out on top when Expedia analyzed the highest year-over-year (YoY) increase in travelers visiting in July 2019 compared to July 2018, with Winnipeg, Canada taking the top spot. In fact, eight of the top 10 destinations with more visitors in 2019 are in Canada:
Winnipeg, Canada
Calgary, Canada
Edmonton, Canada
Halifax, Canada
Ottawa, Canada
Philipsburg, Sint Maarten (in the Caribbean)
Toronto, Canada
Montreal, Canada
Hilton Head Island, United States of America
Quebec, Canada
"Of course, what stands out about this list is the Canadian dominance," Alexis Tiacoh, public relations manager at Expedia, tells Bustle. "Commonly referred to as the Great White North or The North, Canada offers a wealth of different experiences for travelers, like rock climbing and skiing in the Rockies, sampling maple syrup treats in Montreal, and enjoying the art and museum culture of Toronto and Vancouver." She says that not only is Canada easily accessible by cruise ship, car, or a flight from the U.S., but travelers also have more flexibility in their trip type.
"Whether it's a long weekend or an extended stay, Canada's proximity to America is a major benefit for travelers looking to take an international trip without traveling too far," Tiacoh says. "In July, the weather is pretty warm, so travelers can enjoy more of Canada's outdoor offerings." She says that other factors, too, could be influencing the YoY increase of travelers to Canada in July 2019, such as the Raptors' 2018-2019 NBA Finals Championship win, music festivals, and the fact that the country also celebrated its birthday, Canada Day, on July 1.
Within the U.S., Hilton Head Island had the ninth biggest increase among Expedia users from July 2018 to July 2019, and Tiacoh thinks this may be because it's one of America's most-loved and picturesque beach towns. "Not only is it within driving distance of major cities — who doesn't love a road trip? — but it offers a lot of what's on most travelers' summer wish lists: budget-friendly accommodations, warm weather, beaches, and fun activities," she says.
If you want to go to any of the above — or other places — Tiacoh recommends booking flights at least three weeks in advance. "It's best to actually purchase airfare over the weekends, and hotel rooms on Fridays," she adds.
3. KAYAK: St. Lucia (In The Caribbean)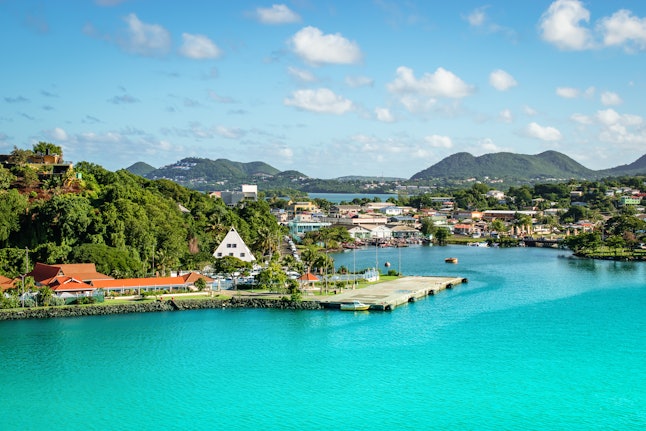 According to KAYAK data, the number one trending destination for July 2019 — versus July 2018 — is the island country of St. Lucia, with interest up more than 200 percent, Steve Sintra, Regional Director, North America at KAYAK, tells Bustle. "New airline routes have been popping up between major cities — like Boston, Chicago, and Miami — to St. Lucia, making the Caribbean island more accessible than previous years (not to mention the airport renovations that have been underway)," he says. "Also, the new terminal at Hewanorra International Airport, for example, is aimed at increasing the airport's capacity for international travelers."
Sintra also says that new hotel openings — combined with seasonal specials from existing ones — is another factor that's making the island more attractive to summertime travelers. "And, even before the new routes and airport projects were underway, St. Lucia was declared one of the top places in the world that everyone must visit," he says. This is due to its hundreds of miles of coastline and beaches (including volcanic beaches), reef diving, hiking trails, stunning waterfalls, and the mud baths in Sulphur Spring Park — to name a few — Sintra adds. If you want to be among those flocking to St. Lucia, Sintra suggests booking four to five months in advance, when median airfare is about $710.
4. Hotwire: Lake Buena Vista, FL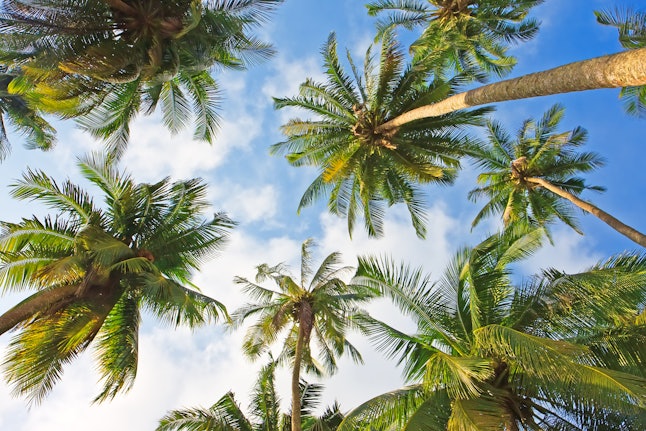 Hotwire found that the destinations with the biggest YoY increase from July 2018 to July 2019 were all within the U.S., with Lake Buena Vista, FL coming in first place.
Lake Buena Vista, FL
Falls Church, VA
Brookline, MA
Boulder, CO
Winter Garden, FL
Waltham, MA
Cherry Hill, NJ
King of Prussia, PA
Jersey City, NJ
"Our data showed some really fun results, even though these might not be trip destinations that come to mind for everyone," Carolin Fuller, senior public relations manager at Hotwire, tells Bustle. "But when we consider the trend we've been seeing of more travelers preferring quick, last-minute getaways to longer vacations, it makes perfect sense that travelers might be staying closer to home and choosing destinations that are easy to get to, but still offer a fun change of pace."
Similarly, she says that Hotwire just released their "America's Best Cities for a Quickie" Index — where they surveyed 1,000 nationally representative U.S. adults ages 18+ between May 28-31 — and found that it wasn't just the big cities that made great travel destinations. "Smaller cities, like Madison, Sarasota, and Springfield, made the list, too, thanks to their affordability, accessibility, and selection of cool things to do," Fuller says. For the Index, Hotwire looked at destinations that lend themselves to a spontaneous 2-3-night getaway and considered more than 10,000 data points to find those cities that are the most budget-friendly, easy to get to, minimize travel time, and are fun, Neha Parikh, president of Hotwire, tells Bustle.
5. Skyscanner: Madrid, Spain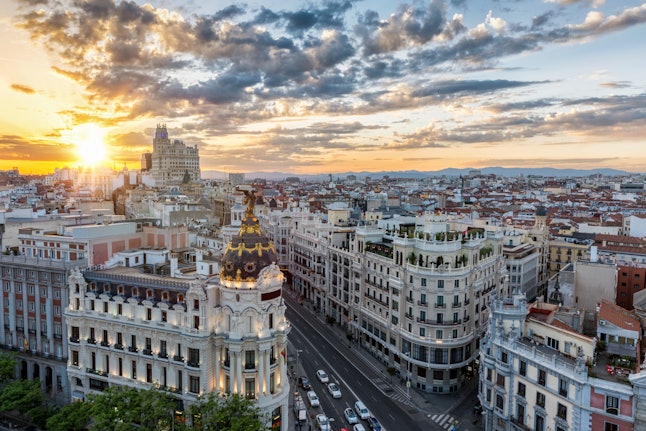 When Skyscanner looked at how July 2018 travel compared to July 2019 travel, they found that Madrid, Spain had the biggest travel increase internationally, with a 255 percent YoY increase.
Madrid, Spain
Athens, Greece
Manila, Philippines
Barcelona, Spain
Ho Chi Minh City, Vietnam
"The allure of these European cities for summer travel is undeniable," says a Skyscanner spokesperson. "From their central geographic locations, travelers can easily reach these destinations and navigate around them, as well as connect to other major cities and regions throughout the continent." They say that each city also offers a diversity of attractions and options, as well as easy accessibility to other locations. "With tons of events, festivals galore, unparalleled gastronomic experiences, and later sunsets than in the U.S., you can't go wrong to travel to these destinations," says a Skyscanner spokesperson.
As for when people booked their trips, Skyscanner says travelers saved between 25-40 percent off the annual average price from booking their air travels three to five months in advance. "Remember, the best deals are typically found about 90 days before travel for international flights and, even though these destinations are popular in July, there are other months with better deals that may help you save money." For instance, they say that booking travel to Madrid and Athens is cheapest in September, and booking travel to Barcelona is cheapest in November and December — while all three destinations have October as the second cheapest month for booking travel.
Domestically, Skyscanner found the following cities in the top five when comparing July 2018 to July 2019, with Honolulu, Hawaii having the biggest YoY increase at 167 percent.
Honolulu, Hawaii
Nashville, Tennessee
Durham, North Carolina
Charlotte, North Carolina
Austin, Texas
Skyscanner says that by booking domestic travel to one of these popular "Southern" destinations two months in advance, most travelers saved between 15-25 percent off the annual average price. "The exception is Honolulu, which provides up to 10 percent in savings if booked within 30 days when compared to those who booked two to four months in advance," a Skyscanner spokesperson says. "We enable travelers to see all the options available to them — from the best time to book their desired location or the most budget-friendly ones." They say, this way, travel can go from being a luxury to a necessity — and something that can be more easily enjoyed and achieved.
In any case, whether you go explore one of the trendy spots above this summer or during the off-season, they'll probably definitely give you #travelinspo.
["source=bustle"]